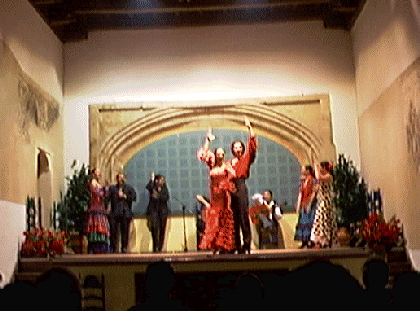 Today we celebrate a product of the Spain of the Autonomies: "Día de Andalucía", designed to foment regional identity. There'll probably be lots of folklore on the streets. This morning Pedro Aparicio writes in
Sur
about the city's newest trick for trying to suck more money out of the cruise ship tourists: morning flamenco shows in the Teatro Cervantes. Olé! You'd think that in the XXI century we'd about had enough of playing to tired stereotypes. This is how Malaga is going to compete for the European Capital of Culture designation? Good luck! Pedro's indignation is understandable. After all, as mayor he was the driving force behind getting the Cervantes renovated, creating a truly professional orchestra to play there, bringing Opera to the city and generally speaking promoting a cultural life that until then had been famous for its absence. This is not about being anti-flamenco in any way or even having a snobbish attitude about culture. And ask anyone involved in the world of
verdiales
, that ancient music from the hills behind the city, who was most important in its revival and chances are they'll tell you it was don Pedro Aparicio. Yes, of course flamenco is relevant and there is in fact a vibrant and evolving flamenco scene that has a devoted audience. But the current managers of the Cervantes seem to have old models in mind. The "package" they hope to sell to tourists includes a reception with Malaga wine and a souvenir. You can imagine our tourists returning to the boat, a little tipsy and with Made in China plastic fan in hand. That's progress!
Well, at least Pedro's got a sense of humor. He adds a few of his own suggestions for tour packages, my favorite being "Our essence": a Holy Week procession down Larios street every morning, followed by an afternoon bull fight up at Gibralfaro, capped of with an August fair stand in the Historic Archive. (This last one is hard to understand, but if you know Málaga, it's very funny, trust me.)
And how appropriate that the papers this morning, Andalusia Day, report the arrest of yet another mayor on a series of corruption charges. More development shenanigans. The coast around here the past ten years has really been like the wild west. Zoning laws? A joke! Environmental restrictions? How much do you want?